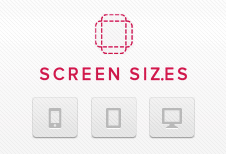 Screen Size – For All Screens and Devices
Some very useful information for web designers to keep close.
This is an organized list of the screen sizes of all monitors, tablets and iPhones.
Screensiz.es gives you the information you need to know about almost all screens in the market. Except for their sizes, you can also see their popularity in the market and some more information you might find useful.
Go check it out and save this useful link.

Don't Fall Behind!
Subscribe and catch-up on tips, tools, freebies and more…
& Get a Gift

 My Set of 400 Arrows for Free