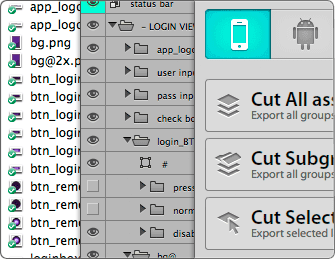 Save Lots of Time With This Slicing Tool!
By lior
on September 1, 2015
Want to export your assets from Photoshop in seconds?
Slicing in photoshop is not fast enough unfortunately. 
Cut&Slice me is a free Photoshop plugin, that allows you to cut and export all your elements to png format. It trims the pixels you don't need, or let you specify the size you want. You can also export all states of your buttons in seconds.
The key to this super-useful plugin is to organize your layers according to a few simple rules. And the plugin will do the rest.
Know a similar tool? Or want to share your experience with it? Add a comment here below.

Don't Fall Behind!
Subscribe and catch-up on tips, tools, freebies and more…
& Get a Gift

 My Set of 400 Arrows for Free